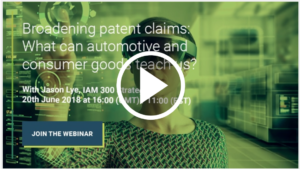 Please join me on June 20th for a live webinar on Broadening Patent Claims:  Lessons from Automotive and Consumer Goods.
11:00am EDT / 4:00pm BST, Wednesday June 20th
The webinar is free, however, registration is required.  You can register by clicking here.   Looking forward to it!
With innovation budgets increasing each year and R&D efficiency decreasing in the western world, many companies are starting to get creative with how they structure and what claims they include in a patent. This is not only to give their technology better protection but to also increase the value of their claims.
One of the methods that is becoming prevalent in the Automotive and Consumer Good Industries is the use of Human Experience factors in a patent. By link your technology to the User Experience provided by it. This is useful when filing in crowded patent spaces, enabling broader protection at lower cost than a "picket fence" IP strategy.
DrJason Lye (IAM 300 Strategist), and Founder of Lyco Works, who has used this technique with many of his clients will be exploring some of these patents and how to make the most out of User Experience in this webinar.