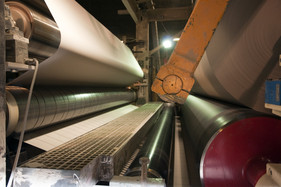 High Efficiency Drying, Cooling, Heating, or Curing.
Atlanta GA:  Lyco Works Incorporated has entered into a representation agreement with Heat Technologies Inc. to help them find innovative uses for their novel acoustically assisted thermal and mass transfer technology.  Developer, Gene Plavnik has perfected the design of machines incorporating the technology for use in drying continuous webs and other manufacturing applications that are currently limited by prolonged drying times.  HTI have over thirty dryer units in commercial service at the time of writing, and that number is expected to double this year as the technology is tested and adopted by more companies.
"The biggest problem I'm facing with this project is credibility.  Can you imagine traveling back in time to the 1930s, and trying to convince a chef to buy a microwave oven?  'All you have to do is put your potato in here, and in just four minutes, it's cooked!'  The results obtained using this technology appear just too good to be true  –  It really has to be seen to be believed." – Jason Lye.
"When one of the acoustic dryers is fitted onto a customer's existing coating line, we are typically able to increase the customer's line speed, reduce their electrical power consumption, and reduce the media drying temperature — all in a much smaller equipment footprint."
Please do reach out if you have a production process that is currently limited by the time taken to:
–        Dry
–        Heat
–        Thermally Cure
–        or Cool your product
"Many of our customers wish to switch from solvent based inks to water based – however, their line speed is much slower because of the increased dry time needed for water. That is, until they bolt one of our small machines onto their coating or print line", commented Gene Plavnik, President of HTI and inventor of the patent pending technology.
"We are pleased that Lyco Works will be leveraging their extensive network to identify additional industries that make use this technology."
Lyco Works has compiled a few case studies of commercial use of this technology;- we have plenty more to share.  Please click on the link that follows, and give us a call to find out more.