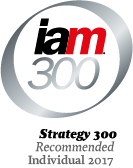 The world's top IP value creators have been named by Intellectual Asset Management Magazine.  This credential recognizes leadership in the development of IP strategy and IP value creation by Lyco Works Incorporated.
The IAM research team spoke to a wide range of senior corporate IP managers in North America, Europe and Asia, as well as third-party IP service providers, in order to identify these IP leaders: men and women whose business is the creation, development and deployment of strategies that enable IP owners to gain maximum value from their portfolios.  Only those individuals nominated multiple times by different parties as outstanding IP strategists are listed in the IAM Strategy 300.
"Intellectual property helps to drive the 21st century economy, creating strong incentives to invest in the creation and roll-out of brands and all types of content, as well as the innovation process.  This makes IP strategists more important than they have ever been before.  Their ability to create significant value makes them indispensable, wherever in the world they operate," says IAM editor Joff Wild.