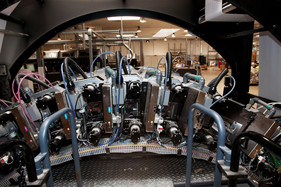 In acoustic drying news, we previously mentioned that Jason has been serving as Chief Technical Officer to Heat Technologies Inc. for about six months.  Using HTI's acoustically enhanced thermal and mass transfer technology, we continue to help manufacturing customers dry webs faster, cooler, in a tiny footprint, using a fraction of the energy.  80 units are now in commercial production, and that number is increasing – especially in Europe where energy is so much more expensive.
Be sure to contact us when you need more throughput, lower energy consumption, and shorter web path.  2014 is already off to a great start with three nice pieces of news:
1)  Heat Technologies Inc. just received some very positive recognition from the Paper, Film & Foil Converter publication as a top new product pick by it's readers. PFFC – Top New Product Pick
2)  The new HTI iPhone app is now available in the iTunes store.  The HTI Anilox app allows conversion between coating weights and ink lay down expressed in the diverse lexicon of the printing and coating industry.  Coming soon:  an app for Android base phones.
3)  HTI is in the process of moving it's pilot line to an expanded and dynamic new technology center, located in Atlanta GA. The team expects that HTI will be fully functional again toward the beginning of March.  The team is also taking the opportunity to upgrade the pilot testing equipment to include additional power.