How well are you keeping up with new IP publications pertinent to your business?
Thousands of patent applications and issued patents publish around the world on a weekly basis.  Of the almost 120,000 patents and applications published weekly in 2017:
Which ones may have had financial impact to your business? 

Which ones threaten your short and long term competitiveness? 

Which ones offer opportunities for future expansion and growth?
Lyco Works now provides a monthly digest, highlighting publications of interest and impact to your business.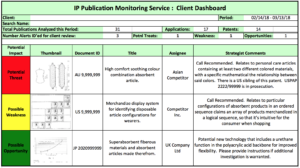 A new service offering for 2018.  
We monitor IP publication activity in over 100 jurisdictions relevant to your business.  Results are analyzed personally by a recognized IP strategist and scientifically trained technologist to determine business impact.  Our partnership offers IP intelligence that is:
Customized – by filtering business pertinent patent activity, by technology, features and benefits, assignee, and country.
Analyzed – per your needs, according to the potential impact it has on your unique business objectives and strategies.
Synthesized – for clear presentation to senior management, and

as well as

accompanied by detailed information for deep-dive technologist assessment.
So, don't drown in data, bury your resources in paperwork, or limit your understanding of this critical business asset.  Let team Lyco keep you up to date by providing you timely, flexible, and actionable IP business intelligence updates.  
Concerns Addressed:
"We're updating our business strategies and budget allocations.  How might our new product introductions be compromised by the competition?"
"To what extent are our existing products being threatened by the competition and new technologies?"
"We ran a search and filed a patent, but what if another application publishes before ours?"
"Ours is a litigious and crowded field.  We want to know as early as possible if we are at risk of infringing – or conversely if someone else is encroaching on our own IP estate."
"Typically, our products address specific consumer attributes and benefits.  We want to know if our competitors are beginning to address different attributes."
"New technology is emerging continuously – we want to see it first!"
"We're worried that our Trade Secret may become patented by another company."
"We want to expand our product offerings.  Are there new product technology opportunities to enter?"
"Our competitive landscape is evolving rapidly;- we want to know who is active in what technology, around the world?"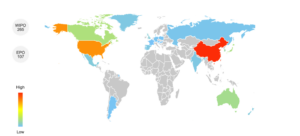 Let Lyco Works use our unique capabilities and provide you with IP updates on a regular basis.  We offer flexible programs to support your business, technical and legal teams.   We're ready to hear from you to discuss a customized proposal.